Utilizing your existing Doorbell for Home Automation
Updated: 09/10/03
Have you ever wondered how to interface your existing doorbell circuit to your home automation systems ? Well here's a simple idea.
The easiest way I accomplished this was to use the existing door bell wires. The doorbell switch is usually in series with the 24 volt AC transformer and the actual door bell unit. My transformer is mounted directly to my service/breaker panel, with the the primary power leads wired directly to a breaker. The output of the transformer was originally connected to 2 conductor bell wire and is routed to the door bell circuit. 2 conductor bell wire is then usaully routed from the bell to the switch (see diagram below). This is normally how a door bell is configured. I then disconnected the wire going to the transformer's secondary (24VAC) and then shorted out the wires on the bell unit itself. I then wired the wires originally connected to the transformer to a digital input on my Stargate HA Controller. You can also connect these wires to an X-10 Powerflash Module if you want to trigger a macro or something. Unfortunately, the original door bell itself is inoperable.... but then again, you can replace it with a bunch of Chime Modules strategically located around the house. Simple, but effective!
Below is a rough diagram of the required setup!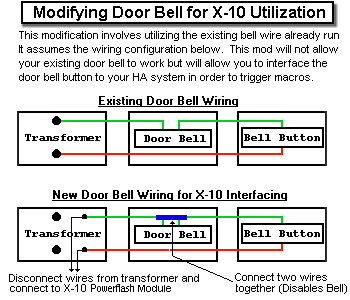 ---
---

Earthmen Productions
©1996-2004